Song List: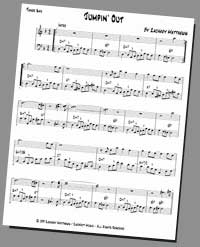 Anything is possible!
Click here for a detailed songlist (in PDF Format) of Jazz standards that most every LA Jazz Bands ensemble can play. This is, of course, a starting point. If you have particular songs that you would like performed we would be happy to work with you to make a set list which perfectly suits your event. Many of the ensembles have a specific song list that they will pull from and some of those lists are available on their individual pages on this site.
Song Research:
Many people request recordings of songs to choose from for their events. While providing such recordings could violate copyright laws there is an excellent way of previewing and legally downloading thousands of Jazz Songs. "E-music" has one of the very biggest collections of classic jazz and just about every song you can imagine is available through the service. Click on the link below for a free trial (including free downloads) of the e-music subscription service. Then print out the song list above for some ideas of songs you might like to request.