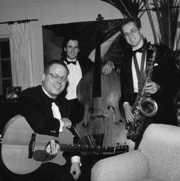 Trios
Another perfect grouping for a small space or for light background music to build ambiance. A trio can be subtle or lively, engaging or unobtrusive and a trio can play all of the same songs that a larger ensemble can. With only three people involved, a trio is a reasonably priced option.
Possibilities:
The classic. . .Piano (or Guitar), Bass and Drums
The other classic. . . Piano (or Guitar) Bass and Sax
How about a Pianist or guitarist who also sings with bass and drums. Tell us the mix you want - we have it!
How to choose a trio:
1) Listen to some samples below and choose the instrumentation that sounds best for your event
2) Leave it to us to choose the best musicians or go the the Bands Page and click on links for instrumentalists and choose your own.
3) Then click here to start the booking process!
Some Sound Samples

Piano, Bass & Drums
But Not For Me
Hold Fast
Piano, Bass & Drums (with pianist singing)
I've Never Been In Love Before
You'd Be So Nice To Come Home To
So In Love
There Is No Greater Love
Sax, Guitar & Bass
I Can't Get Started
Stomping At the Savoy
In A Sentimental Mood
Flute, Guitar & Bass
Samba de Orfeu (live)
So Danco Samba (live)
Zingaro (live)
Guitar, Bass & Drums
All The Things You Are (live)
Ceora (live)
Airegin (live)
Besame Mucho (live)
Willow Weep For Me (live)
Come Sunday (live)
Joy Spring (live)
Isn't it Romantic
Triste
Speak Low
There is No Greater Love
Tenor Sax, Organ & Drums
Blues Tune
Two Guitars and Bass (Hot Club of Paris/Django Reinhardt style)
It Don't Mean a Thing if it Ain't Got That Swing
Nuages
Violin, Guitar and Bass (Hot Club of Paris/Django Reinhardt style)
Julian