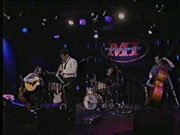 Quartets
A really flexible group size allowing a range of sounds from elegant background music to fun, upbeat, lively sounds. a Quartet is possibly the most classic jazz sound with the standard backbone of the 'rhythm section' (piano/bass/drums or guitar/bass/drums) and a solo voice (sax, vocals, trumpet, trombone, guitar etc.) a quartet creates a classic sound that is the standard vehicle for jazz greats and might just be the perfect sound for your event.
Possibilities:
The classic. . .Piano (or Guitar), Bass and Drums with a sultry Saxophone
The other classic. . . Piano (or Guitar) Bass and Drums with a singer
How about a Pianist or guitarist who also sings with bass, drums and a horn soloist?
The options are so varied. . . Piano, Guitar, Bass & Drums. . . . 2 saxes with guitar and bass . . . sax, organ, gutar and drums . . . .
How to choose a quartet:
1) Listen to some samples below and choose the instrumentation that sounds best for your event
2) Leave it to us to choose the best musicians or go the the Bands Page and click on links for instrumentalists and choose your own.
3) Then click here to start the booking process!
Some Sound Samples from LA Jazz Bands ensembles

Tenor Sax, Guitar, Bass & Drums
Melonhead
Felicidade
Just Like It's Always Been
AC/DC Current
O Grande Amor
Tenor Sax, Piano (or keyboard), Bass & Drums
You've Changed
Once I Loved
What Birds Know
Eastern View
I've Never Been in Love Before
Hangin' With the Bubbas

Alto Sax, Guitar, Bass & Drums
Alice in Wonder land
Black Orpheus
Tangarine
Take 5
Alto Sax, Tenor Sax, Bass and Drums
Broadway
I'll Remember April
Trumpet, Piano Bass & Drums
You Know I Care
Tenor Sax, Organ & Drums
Blues Tune
In a Sentimental Mood
Latin Groove
Mr. PC